First there was the blue wing
of a scraggly loud jay tucked
into the shrubs. Then, the bluish
black moth drunkenly tripping
from blade to blade. Then,
the quiet that came roaring
in like the RJ Corman over
Broadway near the RV shop.
These are the last three things
that happened. Not in the universe,
but here, in the basin of my mind,
where I'm always making a list
for you, recording the day's minor
urchins: silvery dust mote, pistachio
shell, the dog eating a sugar
snap pea. It's going to rain soon,
close clouds bloated above us,
the air like a net about to release
all the caught fishes, a storm
siren in the distance. I know
you don't always understand,
but let me point to the first
wet drops landing on the stones,
the noise like fingers drumming
the skin. I can't help it. I will
never get over making everything
such a big deal.
Copyright © 2018 by Ada Limón
All rights reserved.
Reproduced by Poetry Daily with permission
Ada Limón is the author of four books of poetry including Bright Dead Things, which was named a finalist for the National Book Award in Poetry, a finalist for the National Book Critics Circle Award, a finalist for the 2017 Kingsley Tufts Award, and one of the Top Ten Poetry Books of the Year by The New York Times. Her other books include Lucky Wreck, This Big Fake World, and Sharks in the Rivers. Her work has appeared in The New York Times, The New Yorker, The New York Observer, Harvard Review, and elsewhere.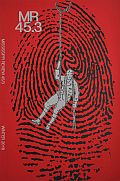 The University of Southern Mississippi
Editor
Adam Clay
Associate Editors
Jon Riccio
Nickalus Rupert
Founded by Gordon Weaver in 1972 at the University of Southern Mississippi, Mississippi Review is today one of the most respected literary journals in the country. Raymond Carver, an early contributor to the magazine, once said that MR "is one of the most remarkable and indispensable literary journals of our time." Well-known and established writers have appeared in the pages of the magazine, including Pulitzer and Nobel Prize winners, as well as new and emerging writers who have gone on to publish books and to receive awards. Mississippi Review is now in its fifth decade, and while adapting to this up-and-coming generation of writers and readers, the magazine continues to publish writing that is offbeat and ahead of the curve.