When You Lie Down and When You Rise Up
From the time I was small I was toldwe're unsafe, told when they come back for us,when the Nazis come, back for usand it was impossibly rainlessthe older I grew and the crispemptiness of the sidewalks shone backinto my smudged lenseslike an exclamation point and I was dazzled!by America though I didn't know any other.I didn't believe themwhen they come back for uswhile men tossed around anyone with an hourglassand, the truth is, I was good on my knees,I was so loved during if irrelevant after.I was female. I was Jewish but I didn't believeNazis were coming back for us, our deadleft mid-century and now we're in odd hourof collapsing ease in the collective history soI can't rid my tongue of all these syllables.L'ahavah et Adonai Eloheikhemul'av'do b'khol l'vav'khem uv'khol naf'sh'khem.I shudder at it sometimes, its trudgingcadence but some all-night-longs it comforts melike nothing more provocative can comfort me.A man in a strip club once confessed to mehis fetish for Jewish women and for years nowI have wished I had asked him, under the angryand merciless lights, the minacious pitchof inexorable night, if the turn onis more in the persecution or in the resilience?
"When You Lie Down and When You Rise Up" from REFUSENIK: by Lynn Melnick.
Published by YesYes Books on February 22, 2022.
Copyright © 2021 by Lynn Melnick.
All rights reserved.
Reproduced by Poetry Daily with permission.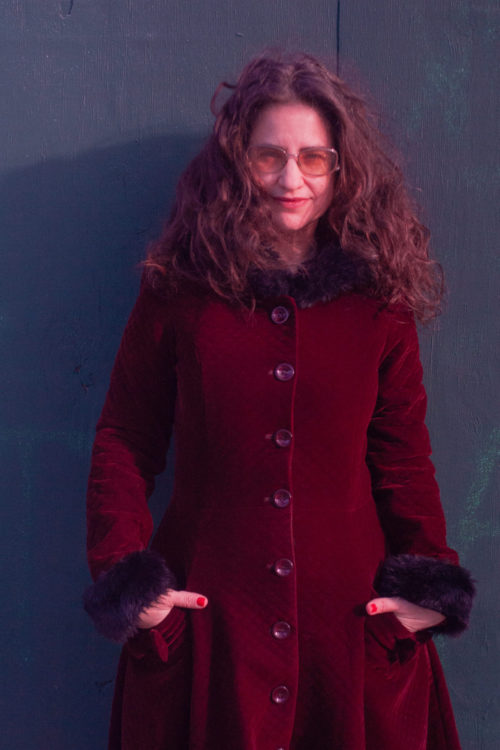 Lynn Melnick is the author of the memoir, I've Had to Think Up a Way to Survive: On Trauma, Persistence, and Dolly Parton, forthcoming from University of Texas Press's American Music Series in October 2022. She is also the author of three poetry collections, Refusenik (2022), Landscape with Sex and Violence (2017), and If I Should Say I Have Hope (2012), all with YesYes Books, and the co-editor of Please Excuse This Poem: 100 Poets for the Next Generation (Viking, 2015).Her work has appeared in APR, LA Review of Books, The New Republic, The New Yorker, The Paris Review, Poetry, A Public Space, and the anthology Not That Bad: Dispatches from Rape Culture. She has received grants from the Cafe Royal Cultural Society and the Hadassah-Brandeis Institute. A former fellow at the New York Public Library's Cullman Center for Scholars and Writers, and previously on the executive board of VIDA: Women in Literary Arts, she currently teaches poetry at Columbia University and the 92Y. Born in Indianapolis, she grew up in Los Angeles and currently lives in Brooklyn.
"With her signature wit and candor, Melnick reckons with a history of misogyny and anti-Semitism, war and atrocity, sexual and domestic violence, myriad abuses of power—and yet there is humor and hopefulness in her voice, a perpetual sense of discovery."
—Electric Lit
"Readers will find Melnick's voice a welcome presence that never shies away from the pain and beauty that life brings"
—Publishers Weekly
"Melnick's is the rare kind of poetry that reads like a page-turner; I read it in one sitting and then read it again, and in the end I felt both angry and tender, and more alive."
—Shelly Oria, BOMB