Another Way of Explaining It
A fine way of looking at things—
me observing you kissing me.How decent of me
to pretend I am shocked by you.You're the inverted foot that starts a line:
that start of a climb that
begins with falling.
Copyright © 2018 by Duy Doan
All rights reserved.
Reproduced by Poetry Daily with permission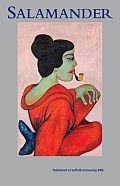 Editor-in-Chief: Jennifer Barber
Managing Editor: Katie Sticca
Senior Editor: Peter Brown
Poetry Editor: Valerie Duff-Strautmann
Salamander is a journal for poetry, fiction, and memoirs. Salamander combines the best new work by writers now reaching artistic maturity with exciting new work by established writers. Some of our past and present writers include Jane Brox, Jhumpa Lahiri, Justin Cronin, Jean Valentine, Fred Marchant, Frannie Lindsay, Joe Bolton, Michael Collins, Catherine Sasanov, Don Share, Jacquelyn Pope, Linda Pastan, Ira Sadoff, Peter Ho Davies, Emily Hiestand, Dzvinia Orlowsky, D. Nurske, Martha Rhodes, Joan Aleshire, Phillis Levin, Laurie Sheck, Susan Monsky, Sharon Dolin, Rachel Weintraub, Afaa Weaver, Rebecca Seiferle, Jessica Greenbaum, and many, many others.