While sipping coffee in my mother's Toyota, we hear the birdcall of two teenage boysin the parking lot: Aiight, one says, Besaydoo, the other returns, as they reachfor each other. Their cupped handshake pops like the first, fat, firecrackers of summer,their fingers shimmy as if they're solving a Rubik's cube just beyond our sight. Momentslater, their Schwinns head in opposite directions. My mother turns to me, revealing themilky, John-Waters-mustache-thin foam on her upper lip, Wetin dem bin say?Besaydoo? Nar English? she asks, tickled by this tangle of new language. Alright.Be safe dude, I pull apart each syllable like string cheese for her. Oh yah, dem nar real padi,she smiles, surprisingly broken by the tenderness expressed by what half my family might callthugs. Besaydoo. Besaydoo. Besaydoo, we chirp in the car, then nightly into our phonesafter I leave California. Besaydoo, she says as she softly muffles the rattling of my bonesin newfound sobriety. Besaydoo, I say years later, her response made raspy by an oxygentreatment at the ER. Besaydoo, we whisper to each other across the country. Likesome word from deep in a somewhere too newborn-pure for the outdoors, but wesaw those two boys do it, in broad daylight, under a decadent, ruinous, sun.
Copyright © 2020 by Yalie Kamara
All rights reserved.
Reproduced by Poetry Daily with permission.
Yalie Kamara is a Sierra Leonean-American writer and a native of Oakland, California. She's the author of A Brief Biography of My Name (Akashic Books/African Poetry Book Fund, 2018), which was included in New-Generation African Poets: A Chapbook Box Set (Tano) and When The Living Sing (Ledge Mule Press, 2017). Kamara was a finalist for the 2020 National Poetry Series and the 2017 Brunel African Poetry Prize. Her poetry publications include The Poetry Society of America, The Adroit Journal, Callaloo: A Journal of African Diaspora Arts and Letters, and Southern Indiana Review. She has received fellowships from The Vermont Studio Center, Callaloo, and The National Book Critics Circle. She earned an MFA in Creative Writing (Poetry) from Indiana University, Bloomington, an MA in French Culture and Civilization from Middlebury College and is currently a doctoral student in Creative Writing and English Literature at the University of Cincinnati where she is a Yates Fellow. For more: www.yaylala.com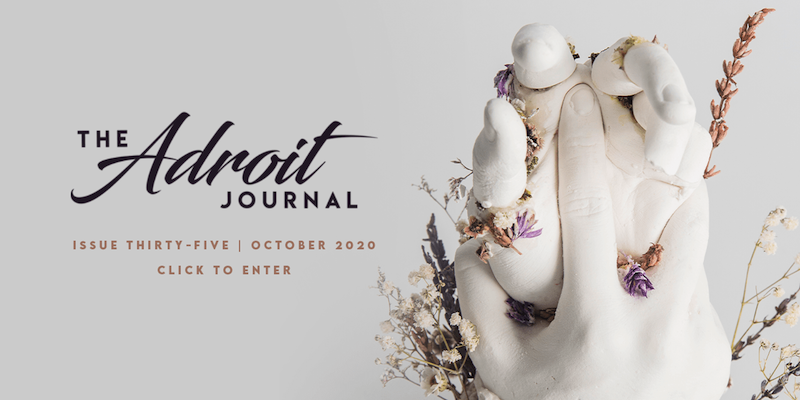 Philadelphia, Pennsylvania
Founder & Editor-in-Chief
Peter LaBerge
Managing Editor
Garrett Biggs
Executive Editor
Heidi Seaborn
Poetry Editors
Emily Cinquemani
Kate Gaskin
Lisa Hiton
Wayne Johns
Talin Tahajian
The Adroit Journal was founded in November 2010 by poet Peter LaBerge. At its foundation, the journal has its eyes focused ahead, seeking to showcase what its global staff of emerging writers sees as the future of poetry, prose, and art.
Recently featured in Best American Poetry, Pushcart Prizes: Best of the Small Presses, Poetry Daily, Best of the Net, Best New Poets, Verse Daily, The New York Times, The Paris Review, Teen Vogue, and NPR, the journal has featured the voices of Terrance Hayes, Franny Choi, D. A. Powell, Alex Dimitrov, Lydia Millet, NoViolet Bulawayo, Ocean Vuong, Ned Vizzini, Fatimah Asghar, Danez Smith, and beyond.