"In Country That Is Rough, But Not Difficult, One Sees Where One Is & Where One Is Going at the Same Time"
As rock speaks to anytrained or curious eye:someone elsesometime elselaid down words—thin sheets or thick—something broke themlifted, pressed themhere: each rippled sandeach pebble clenched:motion renderedvisible, in red bouldersthick with clasts, a wildconglomerate, something madeof other things where'pain and suffering shapethe mind,' a quite implausible'up above' where wind hammersworlds together: convenientand bleakreduced to brash orlichen crust as brute matterwind/light/spacea mystery thickas contour lines on an old map—called reticentor maybe clitched, or'looking back downthe path to the sea'—I meant seabeda fossil storm justpart way upto paradise—look here:a shallow dip in rough scree'where water comes graduallyinto focus' only becauseit trembles: that is windspeaking softlyheard by those who carry painas others carrytalismans, a descendentalwillingnessto walk all day in pursuitof fear—I meanto corner it, trap it, parse itthumbing a rockof green/black wavestouching lightin the form of leaftime in a metamorphicstone: 'and whowith any sensecan't be interestedin that?'—the sheenthe shades, the Gatesof Delirium—sandstone, sandwortiron oxidethought or spasmtouch or word:where a breezecrosses pain fluttersmuscle, ligamentsediment, sentimenttrees bent flatby wind and snowskirling wavesof rock uplifting:try to stand theretry to finda there exactlytouching herea timberlineso crystal clearso free of pityfree of dreadand all the lakesthat live there stillas wind
Excerpt from The Avalanche Path in Summer
Ahsahta Press, 2019
Copyright © 2019 by Susan Tichy
All rights reserved.
Reproduced by Poetry Daily with permission.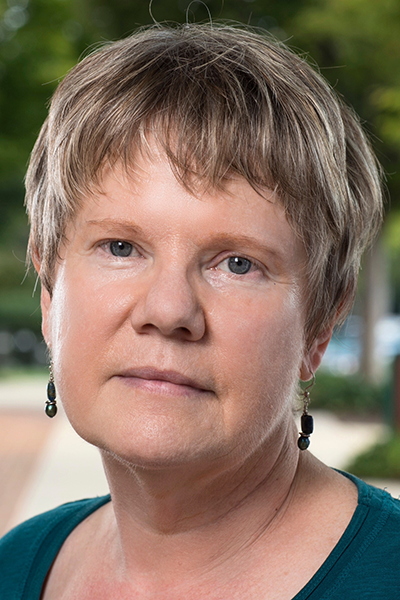 Susan Tichy is the author of six books, most recently The Avalanche Path in Summer, a muscle-memory of a life in mountains, and Trafficke, a mixed-form investigation of family, race, and language spanning from Reformation Scotland to the abolition of slavery in Maryland. Both are from Ahsahta Press. She has written extensively about war and its human consequences, including the volumes Gallowglass (Ahsahta, 2010), Bone Pagoda (Ahsahta, 2007), and A Smell of Burning Starts the Day (Wesleyan, 1988). Her first book The Hands in Exile (Random House, 1983) was selected for the National Poetry Series. Her work has been published in the US, UK, and Australia, and been recognized by a grant from the National Endowment for the Arts, a Chad Walsh Poetry Prize, residencies at Hawthornden Castle International Writers Retreat, and numerous other awards. Recently retired from 30 years teaching in George Mason University's MFA & BFA programs, she resides in Colorado.
More at https://susantichy.com/.
Like the contradictory forces convened in its title, The Avalanche Path in Summer evokes both place and time, a history and the rupture of history, in a landscape structured by word and rock, torn by drought and fire and a body's failings, where poems resemble the mountains—and the lifetime of mountain walking--they represent, and whose representation they alternately embrace and disown.