It can be laughable
to stand in a room
and not know why
you came in there,
familiar as it still is
for the work you once brought
to lighten its dullness
now the best place
for putting things away,
so why do you still stand there
saying to yourself
what am I doing here?
turning over answers
none of which touch
what still seemed possible
so very recently,
replaced now by the gathering
of things not yet done
and the crowded mess of things
that once seemed important
stuffed into boxes
under the old desk
or piled in curious stacks
on shelves with no room left
and the date book open there
with fading addresses
but now so out of date
and the calculator needing batteries—
why did I come in there?
Yet there's no point pretending
you can dodge the touch of nostalgia
rising as you wait for an answer,
this sense of a life that gathered
enough good moments to remain
cause for hoping the memory
of what really counted will stay,
the imagination's awakening
and its flowering as time would have it
while teaching you the secrets of nature,
the green fields of loving,
the heart's selfless companions,
the friends who remained faithful,
these gifts the gods brought
when they managed to glance your way,
and much else beyond understanding
since the luck of your arriving
and your staying this long
still to find those things
so worth laughing about,
so worth singing about,
after you discover that memory
has its own bargain with time
for what remnant life it can carry
whether or not you remember
why you happen to be
where your path has chosen to bring you
on any given day.
Copyright © 2018 by Edmund Keeley
All rights reserved.
Reproduced by Poetry Daily with permission
Edmund Keeley is author of eight novels, most recently The Megabuilders of Queenston Park. His translation (in collaboration with Karen Emmerich) from Modern Greek, Yannis Ritsos: Diaries of Exile, received the 2014 PEN Award for Poetry in Translation. He taught English, creative writing, and Hellenic studies at Princeton for forty years.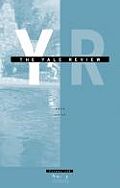 Editor
Meghan O'Rourke
Associate Editor
Susan Bianconi
Since 1911, The Yale Review has been publishing new works by the most distinguished contemporary writers—from Virginia Woolf to Vladimir Nabokov, from Robert Frost to Eudora Welty. The journal's pages have, for almost a century, been filled with the most exhilarating and astute writing of our times. Under the editorship of J. D. McClatchy, himself a prize-winning poet, The Yale Review presents up-and-coming writers, explores the broader movements in American thought, science, and culture, and reviews the best new books in a variety of fields.
"I look forward to The Yale Review because I know I will encounter historians and poets, essayists and reviewers, who will take me on the most intriguing excursions beyond the headlines."
—Peter Jennings, Broadcast Journalist
"It's good news that this noble, long-established periodical is back in circulation."
—Iris Murdoch
"The Yale Review, with its distinguished history, is one of the very finest of American literary journals. Its thoughtfully edited contents include both imaginative and critical writing of a very high—and entertaining—order."
—Joyce Carol Oates