There were no billboards of breasts,of legs I could never match the length of—I liked not being meat as I am in America.There was not enough produce to go aroundand if you look closelyI was part of the problem.And if you held the country at arm's length and squinted,the ban burdening a ninety-mile stretch of egowas part of the problem. I did eat romaine leaves mashedwith avocado and oil without considering who I didn't feed,I did buy tomato and let a man overcharge me.I keep trade between my hand and anotherbut economy involves itself in history, taxesthe luxury of learning where I came from.When it comes totaken liberties,surely I am not all magazine and not-enough and green money.My blood must have something to do with me.
Copyright © 2018 by Trinity Tibe.
All rights reserved.
Reproduced by Poetry Daily with permission.
Trinity Tibe is the co-founder of Say Yes, a Brooklyn-based art collective and performance showcase. She is a winner of Crosswinds Poetry Journal's Annual Contest and Pacifica Literary Review's Winter Poetry Contest. Her work appears in Bodega, Duende, Public Pool, Potluck, and more. She was a 2018 artist-in-residence at the Trélex Residency in Switzerland.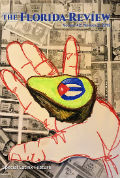 University of Central Florida
Editor & Director
Lisa Roney
Managing Editor
Leah Washburn
Poetry Editor
Kenneth Hart
The Florida Review is published twice yearly by the University of Central Florida. Our artistic mission is to publish the best poetry, prose, and graphic narrative produced by the world's most exciting emerging and established writers and artists.
We are not Florida-exclusive, though we acknowledge having a jungle mentality and a preference for grit, and we have provided and continue to offer a home for many Florida writers. We have been in more or less continuous semi-annual print publication since 1975 and have recently (2017) added a new literary supplement in Aquifer: The Florida Review Online, which will feature new literary works on a weekly basis, as well as author interviews, book reviews, and digital storytelling.