Thunderstorms stir me up—
the stillness right beforethe first close tremor,
the pond shiveringat the height of summer,
the field full-blown, going to seed.But this storm scares me.
A foreign climate occupies the land.When nature was God, in my childhood,
I wasn't afraid. Snow buried the town,the river flooded it,
lightning set the woods on fire.In months the damage bandaged itself
with mosses and ferns.This storm comes from another
world, here by mistake,its rain blistering the birch leaves.
Has it been weaponized?No one knows what to expect
of a storm with human parents.
Copyright © 2018 by Chase Twichell
All rights reserved.
Reproduced by Poetry Daily with permission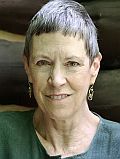 Chase Twichell is the author of seven previous books of poetry, most recently Horses Where the Answers Should Have Been: New and Selected Poems (Copper Canyon Press, 2010), which won both the Kingsley Tufts Award from Claremont Graduate University and the Balcones Poetry Prize. She lives in upstate New York with her husband, the novelist Russell Banks. (Author photo by Margaret Miller Reuther)
Port Townsend, Washington
A highly personal and transcendent collection, Things as It Is took eight years to write. Composed in five sequences, the poems cover vast terrain: from childhood trauma to adolescent desire, ecological disaster to familial elegy, from the first impulse of spiritual seeking to the shock of the present moment. Full of breath, self-awareness, and playful skepticism, Things as It Is turns the aching world on its head to lend sorely-needed perspective.