Touch the Earth (once again)
This is what we do:this is what the cotton truck driver does:this is what the tobacco leaf roller does:this is what the washer-woman & the laundry worker does:this is what the grape & artichoke worker does:not to mention the cucumber workers —not to mention the spinach & beet workersnot to mention the poultry woman workersnot to mention the packing house workers &the winery workers & the lettuce & broccoli& peach & apricot & squash & apple &that almost-magical watermelon& the speckled melon & the honey-dew the workersthis is what they do:notice: how they bend in the fires no one seesnotice: their ecstatic colors & their knotted shirtsnotice: where they cashtheir tiny & wrinkled checks & pay stubs:stand in that small-town desert sundries storethen walk out they do & stall for a moment they dounderneath this colossal tree with its condor-wingsshedding solace for a second or two notice:how they touch the earth — for you
Excerpted from EVERY DAY WE GET MORE ILLEGAL: Poems by Juan Felipe Herrera
Published by City Lights Books 2020.
Copyright © 2020 by Juan Felipe Herrera.
All rights reserved.
Reproduced by Poetry Daily with permission.
Juan Felipe Herrera was the 21st U.S. Poet Laureate from 2015-2017, the first Latino to receive this honor. The son of migrant farm workers, he was educated at UCLA and Stanford University, and received his MFA from the University of Iowa Writers' Workshop. His numerous poetry collections include Notes on the Assemblage (2015), 187 Reasons Mexicanos Can't Cross the Border: Undocuments 1971-2007 (2007), Half of the World in Light: New and Selected Poems (2008), and Border-Crosser with a Lamborghini Dream (1999). Notes on the Assemblage was named a Best Book of the Year by The New Yorker, The Washington Post, Library Journal, NPR, and BuzzFeed. In addition to publishing more than a dozen collections of poetry, Herrera has written short stories, young adult novels, and children's literature.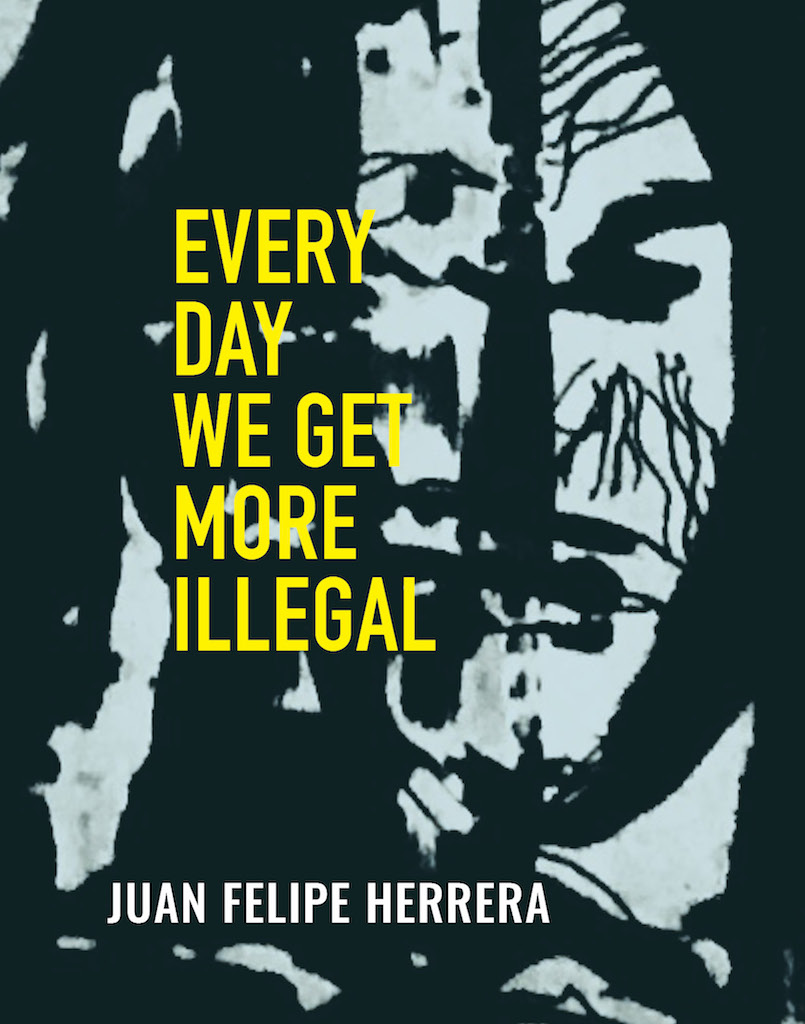 San Francisco, California
"Many poets since the 1960s have dreamed of a new hybrid art, part oral, part written, part English, part something else: an art grounded in ethnic identity, fueled by collective pride, yet irreducibly individual too. Many poets have tried to create such an art: Herrera is one of the first to succeed."
—The New York Times
"Herrera has the unusual capacity to write convincing political poems that are as personally felt as poems can be."
—NPR
"From Basho to Mandela, Every Day We Get More Illegal takes us on an international tour for a lesson in the history of resistance from a poet who declares, 'I had to learn . . . to take care of myself . . . the courage to listen to my self.' In ways subtle and sometimes proudly loud, this book makes it clear exactly why Juan Felipe Herrera continues to be recognized and sought after for his work. You hold in your hands evidence of who we really are."
—Jericho Brown, author of The Tradition