Translated from the Hebrew by Marcela Sulak
Security Zone
You'll become a poor poetthe tank commander told me and fired a shell.Time frozemoons stopped movingnight hemorrhagedsnow.The shell made its wayglitteringthe nightinto a shrapnel of stars.You'll become a poor poet, said the commanderyou're tailor-made for it, you're skinnyquiet, dreamy.You'll write in a narrow room, without a light, aloneyou'll write, I see yousitting, hunched over the computer, on a colder night than this, between youand the street, crossing the securityzone there's a narrow roadthe rhyming zone, where the shell's potential trajectoryis the poem.
Divorce
And these were the days of lies and nights of deception, and allthat I feared came true and all that came—I feared. And I was living like someoneelse—his life. and I was like a stumpof a tree or a river diverted from its path.And the storm didn't strike,and the sea didn't overflow. Sometimesa man destroys his own housewith his own hands.
Copyright © 2019 by Eli Eliahu.
All rights reserved.
Reproduced by Poetry Daily with permission.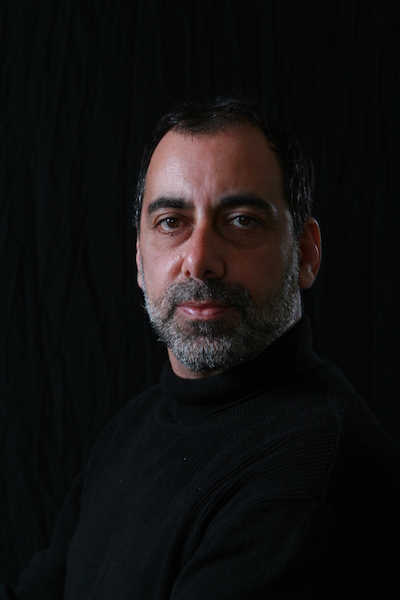 Eli Eliahu's publications include Epistles to the Children (Tel Aviv Am Oved Publishers, 2018); Ir veh-beh-helot [City and fears] (Tel Aviv: Am Oved Publishers, 2011), and Ani veh lo malakh [I, and not an angel] (Tel Aviv: Helicon, 2008). He's received the Matanel Prize for Young Jewish Writers (2013) and the Israel Prime Minister's Prize in Poetry (2014).
Marcela Sulak's third poetry collection (City of Sky Papers) and first memoir (Mouth Full of Seeds) are forthcoming with Black Lawrence Press, where she's previously published Decency and Immigrant. A 2019 NEA Translation Fellow, her fourth translation, Twenty Girls to Envy Me. Selected Poems of Orit Gidali was nominated for a 2017 PEN Award for Poetry in Translation. She hosts the podcast "Israel in Translation," edits The Ilanot Review, and is an Associate Professor of English Literature and Linguistics at Bar-Ilan University.
She is the author of three collections of poetry, Decency (Black Lawrence Press, 2015), Immigrant (Black Lawrence Press, 2010), and the chapbook Of All The Things That Don't Exist, I Love You Best (Finishing Line Press). Her essay "Getting a Get" was runner-up in the 2012 Iowa Review Nonfiction competition judged by Meghan Daum, and other essays have appeared in The Los Angeles Review of Books, Rattle, and other places.
Sulak translates from Spanish, French, Czech, German, Yiddish and Hebrew. Her translation of Twenty Girls to Envy Me. New and Selected Poems of Orit Gidali (University of Texas Press, Jan. 2016) was nominated for the 2016 PEN Award for Poetry in Translation. From the Czech: May [Maj] by Karel Hynek Macha (Twisted Spoon Press, 2005. Second edition 2010), and Bouquet [Kytice] by Karel Jaromir Erben (Twisted Spoon Press, 2012). From the French: Bela-Wenda. Poems of Congo-Zaire by Mutombo Nkulu-N'Sengha 2011 from Host Publications.
Marcela Sulak has worked as a free-lance writer and teacher in Caracas, Venezuela, Rottenburg- am-Neckar, Germany, and Ceske Budejovice, Czech Republic. She has studied in Vilnius, Lithuania; Zlin and Prague, Czech Republic, and Tubingen, Germany. Her research has brought to her Paris, London, Amsterdam, Santiago and Lima. Upon completion of her Ph.D., she was an Assistant Professor of Literature at American University in Washington, DC. Currently she is a senior lecturer of English at Bar-Ilan University in Ramat-Gan, Israel, where she directs the Shaindy Rudoff Graduate Program in Creative Writing and teaches American Literature, Poetry, Creative Writing and Translation. Her workshop in Hybrid literature (English 451) inspired the anthology she co-edited with Jacqueline Kolosov, Family Resemblance: An Anthology and Exploration of 8 Hybrid Literary Genres, was published in 2015 with Rose Metal Press. She is also an editor at The Ilanot Review, and she hosts the podcast Israel in Translation at TLV.1.
University of Colorado Denver
Editor / Managing Editor
Wayne Miller
Poetry Editors
Brian Barker
Nicky Beer
Copper Nickel—the national literary journal housed at the University of Colorado Denver—was founded by poet Jake Adam York in 2002. When York died in 2012, the journal went on hiatus until its re-launch in 2014.
Work published in Copper Nickel has appeared in the Best American Poetry, Best American Short Stories, and Pushcart Prize anthologies, and contributors to Copper Nickel have received numerous honors for their work.