Why Seek the Dead among the Living?
As hollow as a gutted fish, a hole in the sand,a cistern cracked along the seam—There is no filling such emptiness. And yet—Stitch it shut. Pour and pour, if you wish. Wish and wish, but it's wasted—Water carried to the garden in your cupped palms.Might as well seal an ember in a wax jar. Kindle fire on the crest of a wave.Unbloom a poppy, reshut its mouth, unred its lips—As if it hadn't already sung,As if its voice hadn't already set all summer singing.And the gall at its throat, the boil it's prized for,Hadn't been cut and bled of its white sleep.As if a child could be folded, resewn in its sac, and returned to its womb.
Copyright © 2018 by Jennifer Atkinson
All rights reserved.
Reproduced by Poetry Daily with permission
Jennifer Atkinson is the author of five books of poetry. The most recent, The Thinking Eye, was published by Free Verse Editions of Parlor Press in 2016. Individual poems have appeared in journals including FIELD, Image, Witness, Poecology, Terrain.org, Missouri Review, and previously in The Cincinnati Review. She teaches in the MFA and BFA programs at George Mason University in Virginia.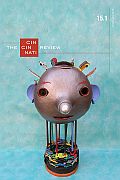 Poetry Editor
Rebecca Lindenberg
Managing Editor
Lisa Ampleman
Editor-at-Large
Don Bogen
Since its inception in 2003, The Cincinnati Review has published many promising new and emerging writers as well as Pulitzer Prize winners and Guggenheim and MacArthur fellows. Poetry and prose from our pages have been selected to appear in the annual anthologies Best American Poetry, Best American Essays, New Stories from the South, Best American Short Stories, Best American Fantasy, Best American Mystery Stories, New Stories from the Midwest, and Best Creative Nonfiction.
Our staff is a motley group of editors, faculty, and graduate-student volunteers. We work in a bustling, pleasantly crowded office in the corner of McMicken Hall, where we pass around and discuss the work writers send us, hold copyediting and proofreading meetings, train students in professional publishing, form assembly lines to mail out new issues, champion literature in all its forms, and take pleasure in doing the daily work of putting new stories, poems, essays, and reviews into print and into our readers' hands.