Barrel, the Night's Habit
Translated from the Croatian by Andrea Jurjević
I was dead and indigo-bluedelicate as a tin can when I was borna can of fat and bones, a bundle of breezeshoved out of the black bed of a mothertongue was a bay miles awayvoice a bramble tightenedbetween the sun and the tricky task of passingI was such a tin can, a divine scaba scar on the skin of March, moist and latethat is the fire brigade of sleepthen I was a harvest, beginning of a cyclethat seems like an ending but isn'tlike TV shows start with familiar scenesand a worm enters a fruit to bloomno bridge arcs the tongue and it's impossible to cross itjust swim and swallow and spit dark liquid down the teethliquid dedicated to silencemother speaks correctly I mostly rejectnow that I'm alive I want odd and quick thingsbones of leaves the green skull of appleheart beating in a less boring rhythm, yet still beatingI'm still that tin can and will again be dead and indigo-bluewhen beside you a bent nail hammers melove painted like a corn crib and a country stopin summertime when hot trains tear and sow and tear againthat barrel, the night
Copyright © 2019 by Marko Pogačar and Andrea Jurjevic.
All rights reserved.
Reproduced by Poetry Daily with permission.
Marko Pogačar was born in 1984 in Split, Yugoslavia. Poet, essayist, prose writer, literary critic. He is an editor of Quorum, a literary magazine, and Zarez, a bi-weekly for cultural and social issues. He was a fellow of, among others, Civitella Ranieri, Passa Porta, Kulturzentum bei den Minoriten, Milo Dor and Brandenburger Tor fellowships. His texts appeared in more than twenty languages.
Andrea Jurjević is a poet and translator from Rijeka, Croatia. Her work has appeared in EPOCH, TriQuarterly, Best New Poets, the Missouri Review, The Journal, Gulf Coast, and many other literary journals. She is the author of Small Crimes, winner of the 2015 Philip Levine Poetry Prize, and translator of Mamasafari (Diálogos, 2018), a collection of prose poems by Croatian author Olja Savičević. Andrea is a recipient of a Robinson Jeffers Tor Prize, a Tennessee Williams Scholarship from the Sewanee Writers' Conference, a Hambidge Fellowship, and the 2018 Georgia Author of the Year Award. She works as a Lecturer in English at Georgia State University.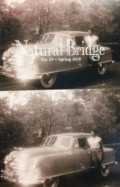 University of Missouri–St. Louis
Editor: Mary Troy
Managing Editor: Dusty Freund
Natural Bridge, a journal of contemporary literature, began publishing fiction, poetry, nonfiction, and works in translation by award-winning writers just prior to the new millennium, and its national and international subscriptions, and thus its reach, have grown yearly…. New, emerging, and mid-career writers whose work has been published in Natural Bridge have been anthologized and have gone on to win the Flannery O'Connor, the Drue Heinz, the John Ciardi prizes, and more.