The Body as Chorus, the Chorus as One
Director sticks two fingers in my mouth.Says, the teeth should be a cherry's widthapart. The mouth's perilous O from whichthe body grows, secondary & vestigial.The body like water around a thrashingfin. A mouth growing more exposed without air.told not to fish for notes, I'm red. Redacted.A filament fused. Director says,the hips should draw down. The spine stairways,a column of clouds. My head, lifted ona string. Learning how the body acceptsplacement: pulled, plucked. Choral lines rigidas hallway busts. Stuffed—our skin arrangedfor display—a special kind of silencefor the rictus that offers onlywhat another's hand portrays. I learnedto exhale without fogging the glassplaced in front of my face—crystallinein control. My voice a kettle of hawks,circling what twitched below. This game I playedwith eyes closed felt like hunting, the wayhunting feels like wanting to be caught.A cycle that frays closer & closer,violence at its end. Each little adjustmentmade. Like a beak combed through feathers, likea beak combed through bone. Detail makes effortunseen—a perfect seam. Empty remainsa wing shrouds over—brutal cavern…& what is my mouth once its smile only spreadson request? Feathers pressed into backgroundmeasure. A song emerges from this frieze.Is it sweet, is it piercing in its cry?
Copyright © 2019 by Brett Shaw
All rights reserved.
Reproduced by Poetry Daily with permission.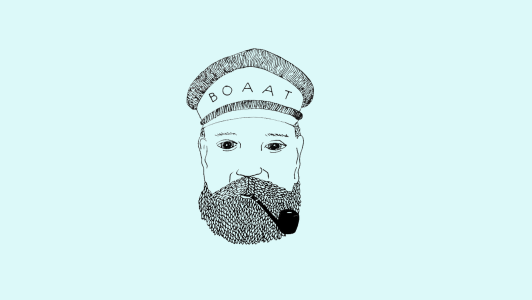 Charlottesville, Virginia
Poetry Editor
Aria Aber
Associate Poetry Editors
J. Bailey Hutchinson
Kendra Langdon Juskus
Nathan Lipps
Kwame Opoku-Duku
BOAAT is an online journal operating out of Charlottesville, Virginia.